The charts below show the number of DXCC entities that submitted logs for each year of the CQ WW DX Contest. The growth is evident as travel increased activity and electronic logs made it easier to submit.
The Covid-19 impact is clear in the steep drop of 50 entities from 2019 to 2020. It gives a good indication of just how many expeditions there are each year!
Tim Shoppa N3QE compiled the following data using the CQ WW online score database and then processed using the Clublog bulk DXCC lookup to do the counts (this excludes the WAE countries that are not part of DXCC).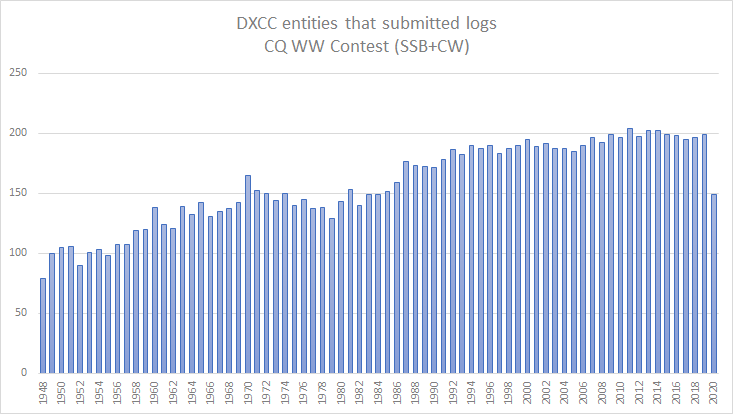 | | |
| --- | --- |
| Year | Entities |
| 2020 | 149 |
| 2019 | 199 |
| 2018 | 196 |
| 2017 | 195 |
| 2016 | 198 |
| 2015 | 199 |
| 2014 | 202 |
| 2013 | 202 |
| 2012 | 197 |
| 2011 | 204 |
| 2010 | 196 |
| 2009 | 199 |
| 2008 | 192 |
| 2007 | 196 |
| 2006 | 190 |
| 2005 | 185 |
| 2004 | 187 |
| 2003 | 187 |
| 2002 | 191 |
| 2001 | 189 |
| 2000 | 195 |
| 1999 | 190 |
| 1998 | 187 |
| 1997 | 183 |
| 1996 | 190 |
| 1995 | 187 |
| 1994 | 190 |
| 1993 | 182 |
| 1992 | 186 |
| 1991 | 178 |
| 1990 | 171 |
| 1989 | 172 |
| 1988 | 173 |
| 1987 | 176 |
| 1986 | 159 |
| 1985 | 151 |
| 1984 | 149 |
| 1983 | 149 |
| 1982 | 140 |
| 1981 | 153 |
| 1980 | 143 |
| 1979 | 129 |
| 1978 | 138 |
| 1977 | 137 |
| 1976 | 145 |
| 1975 | 140 |
| 1974 | 150 |
| 1973 | 144 |
| 1972 | 150 |
| 1971 | 152 |
| 1970 | 165 |
| 1969 | 142 |
| 1968 | 137 |
| 1967 | 135 |
| 1966 | 131 |
| 1965 | 142 |
| 1964 | 132 |
| 1963 | 139 |
| 1962 | 121 |
| 1961 | 124 |
| 1960 | 138 |
| 1959 | 120 |
| 1958 | 119 |
| 1957 | 107 |
| 1956 | 107 |
| 1955 | 98 |
| 1954 | 103 |
| 1953 | 101 |
| 1952 | 90 |
| 1951 | 106 |
| 1950 | 105 |
| 1949 | 100 |
| 1948 | 79 |
DXCC entities that submitted logs for CQ WW DX Contest (combined SSB and CW)